Dec 1, 2020
Driver Safety for Adults 55+ Virtual Presentation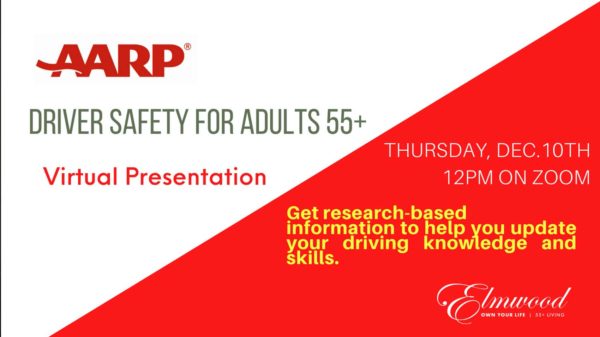 Join The Elmwood VIRTUALLY on Thursday, December 10th at 12 PM along with AARP to get educated on driver safety for adults 55+.
The AARP Smart Driver Course, offered by AARP Driver Safety, is the nation's largest refresher course designed specifically for mature drivers. This course provides research-based information to help you update your driving knowledge and skills.
Added benefit – You can receive a 10% discount on car insurance, first time attendees in Minnesota at the age of 55, are required to take an eight-hour course followed by four courses every three years.
By participating in this course, you're taking advantage of learning how to drive more safely and confidently. Research shows that as a result of completing the course, most people make positive changes to their driving behaviors allowing them to drive longer more safely.
Zoom Meeting Information
https://zoom.us/j/92677279691?pwd=OHhDNGxYclVCbWx4YkYyY2lYNCsyUT09
Meeting ID: 926 7727 9691
Passcode: 650605